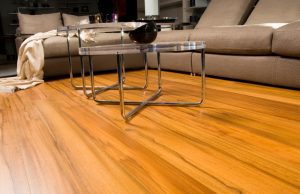 Are you looking for an inexpensive way to upgrade your flooring?  Installing laminate flooring is considered an affordable way of enhancing your room. Laminate flooring offers a host of advantages. For one, it is less expensive than wooden flooring and easier to install. You don't have to worry about sanding, staining and finishing. Laminate floors don't have to be nailed like wooden floors. Plus, it is resistant to fading, denting and scratches. It is also a lot easier to clean than traditional wooden floors.
Laminate flooring looks identical to wooden floors. This is because it contains a small amount of tree within the plank of the laminate flooring. There is only one drawback, laminate flooring material is known to expand and contract during humid temperatures because it's made from natural cellulose fibers.  So, it should be avoided in areas that are high in humidity, such as a laundry room, sauna or bathroom. Other than that, laminate flooring is a great alternative.
This type of flooring comes in a variety of shades and styles, not just in wooden styles. You can also get laminate floors that look very similar to other flooring types, such as slate, brick and even ceramic tile.
Laminate Floor Installation Steps
Before you get started; you'll need to have the right tools and materials for your flooring project. Here's a list of items you'll need:
Materials Needed:
 laminated flooring
underlayer
barrier sheeting
polyethylene tape
laminate glue
adhesive
wall base
end molding, threshold and other transitions
flush, over-the-top or stair nose
Tools Needed:
safety goggles
utility knife
pencil
gloves
tape measure
white vinegar
hammer
router
dividers
drill
tapping block
chalk line
pull bar
spacers
pocket plan
laminate floor cleaner
carpenter's square
saws: jigsaw, table, hand, miter, circular
Installation Instructions
The following installation steps will focus on board style planks with tongue and groove construction.
Step #1: Make sure you prep your existing floor before installing new laminate floors. For best results, make sure you have a smooth and clean surface. If you have carpets, all of the carpeting and padding should be completely removed. Don't forget to cover your furniture with plastic sheeting.
Step #2: You're going to start the installation on the left side of your room and work towards the right. Make sure you put spacers up against each wall. This is how you set up the expansion zone.
Step #3: Put down the first plank. Then add an additional piece of the laminate flooring to the right side of the room. Make sure you line up the short ends and lock them into position.
Once you get to the very end of the first row of planks, you'll have to slice off the last section by subtracting a 1/4 inch before cutting. Make sure you measure the distance between the very last section and your wall.
To reduce chipping when cutting, make sure the decorative side of the plank is in an upward position. To fit in the last piece securely, use a pull bar and use a spacer between the laminate and the wall.
You'll need to use the extra piece of flooring to start the next row. Then you're going to install each plank row by row, pressing the boards into your sub-floor.
Step #4: Install the trim track on the subfloor.  This can be nailed or glued to the subfloor. This process holds the trim securely in place.

Step #5: Install the trim pieces. This will finish the transitions to other rooms within your home. To cover up the space where the floors meet in the door entranceway, use T-molding.
Step #6: Once the flooring has been installed, vacuum up any dust or debris. If you used tape or glue during the installation, simply use a dry towel to get rid of any kind of residue from the tape or glue.
Well, there you have it – a brand-new laminate floor for you and your family to enjoy.
For a free quote and to schedule for an appointment, feel free to contact us or call: 1-877-51-WAGON.today!